Are you looking for 3D printing ideas of actual functioning objects? Here is some inspiration.
Are you looking for 3D printing ideas of actual functioning objects? 3D printing is commonly used to print cosplays and decorative objects, but here we are showing that you can print actual functional objects.
1. Acoustic panel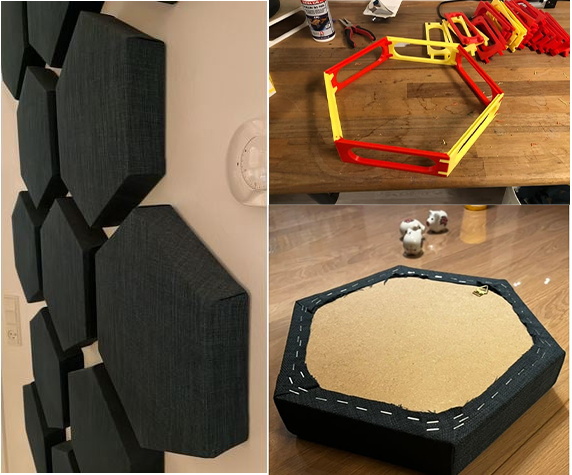 These acoustic panels are a creative project that requires some basic DIY skills. Each acoustic panel consists of six elements, which are assembled into hexagons. Then a base plate is glued on, and a sound-absorbing material is placed inside. In the end, the hexagons are covered with fabric. See the design here.
2. Heart shape necklace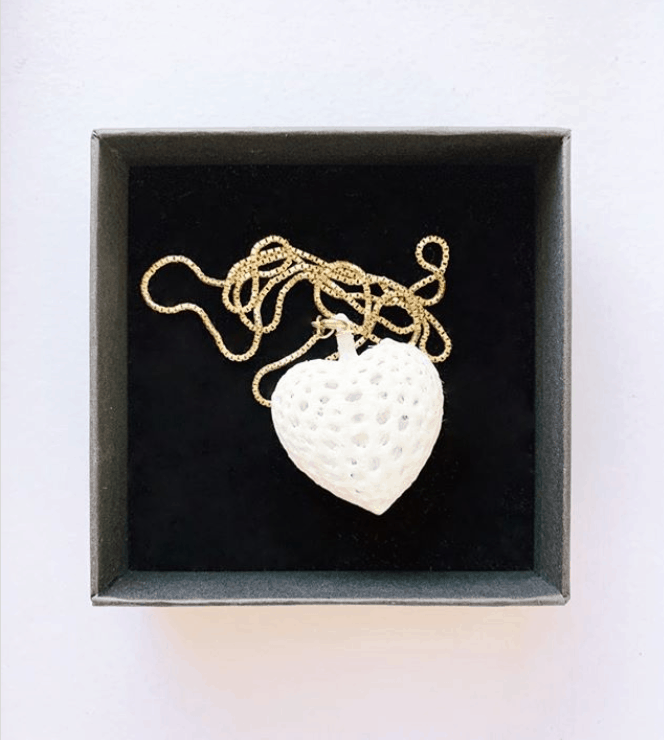 This 3D printable organic heart-shaped necklace is a result of a Valentine's Day jewelry creator competition that can be a lovely surprise for other occasions as well. It can also be used as earrings when printed in pairs. See the design here. 
3. Foldable cloth hanger
These foldable cloth hangers can be printed all at once without support and are a perfect accessory to your wardrobe and convenient when traveling. If only the middle part is opened it can also be used for baby clothes. See the designs here.
4. Ultimate VR and headphone holder
This headphone holder is a decorative and practical way to store your headphone, and it fits most headphones. It can be printed in two parts and requires only 200 grams of filament. See the design here.
5. Chunky bum sitting pot
This chunky boy can hold plants, pencils, and much more for you while being a happy fella. He prints as one piece and you do not need any support for his little bum. See the design here.
6. Wall outlet cell phone holder
This phone holder is an updated version of the original design. It is adapted to Iphone and Ipod devices. An extra edge keeps them from slipping off. See the design here.
7. Pliers case
If you have already got some pliers it's a good idea to 3D print this protective case. It's better to be safe than sorry. See the design here.
8. Modular baseball cap rack
This wall-mounted baseball hat rack/stand is modular in design so can hold as many hats as you need, just print more sections. The design will support any standard baseball hat. The rack is designed to be mounted on standard countersunk wood screws but is not heavy. See the design here.
9. Bubble blower
This bubble blower works better than its regular versions. It just needs a simple straw. A good tip for the bubble mixture: adding a tiny bit of Fairy washing-up liquid thickens it giving WAY better results. Pouring the mixture into a small dish that you can dip the blower into makes it easier to use. See the design here.
10. High heel grass strompers
If you have ever been in the situation having to cross grass field or cobblestoned path in high heels – you know the struggle. If you weren't, you can surprise someone who wears heels with this high heel grass strompers. There are different diameters and thicknesses depending on the softness of the ground and sense of security. See the design here.
11. Claws bookmark
This is a creepy bookmark to make your book more thrilling. The designer has added longer version of it for larger books and it can be scaled up to be set among books too. See the design here.
12. Infinity cube
Infinity cubes have become a popular fidget gadget. They are typically an interlocking set of eight cubes that fold over onto themselves infinitely. This design is optimized for most printers and will print in place without supports. See the design here.
Start printing with REALvision Online