To convert an STL file to G-code, you need to use slicer software. In this post, I will show you how to convert your first STL into the G-code format that your 3D printer can understand.
Click the video to see how you convert Stl into G-code in 2 min.
1. Choose your printer
For many slicer tools, you first need to download and install the software, but for REALvision Online, you can jump right in.
So go to realvisiononline.com and click any of the "get started" buttons. You will now be asked to choose your printer. If your printer is not on the list, you can request it on the link below the printers. We are constantly adding more printers, so it is definitely worth it.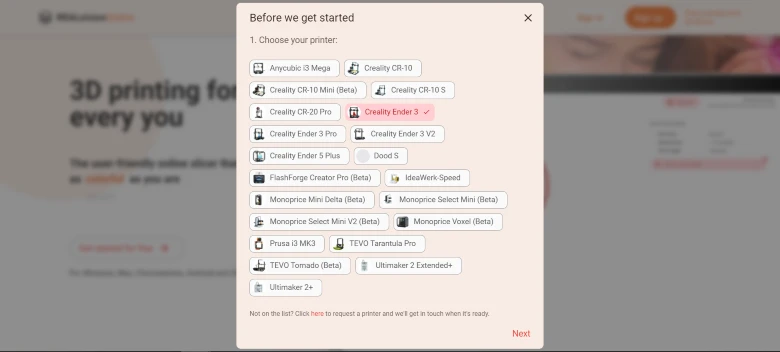 2. Sign up to REALvision Online
The next step is to create a profile. If you have a Google account, you can sign in fast. Otherwise, choose email sign-up.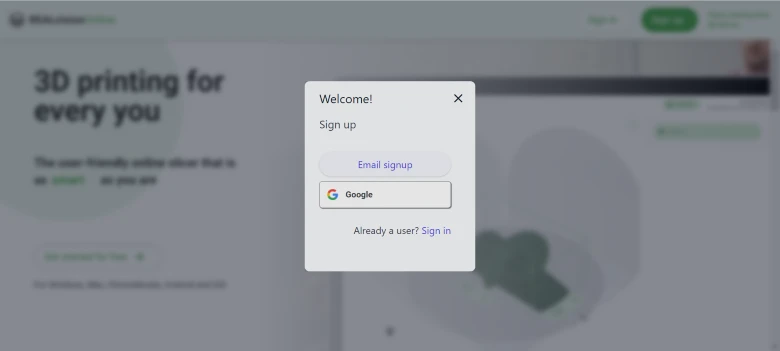 3. Start a new print
You will enter at your dashboard, where you can start a new print. When you have made your first print, it is automatically saved and visible as your last printed option.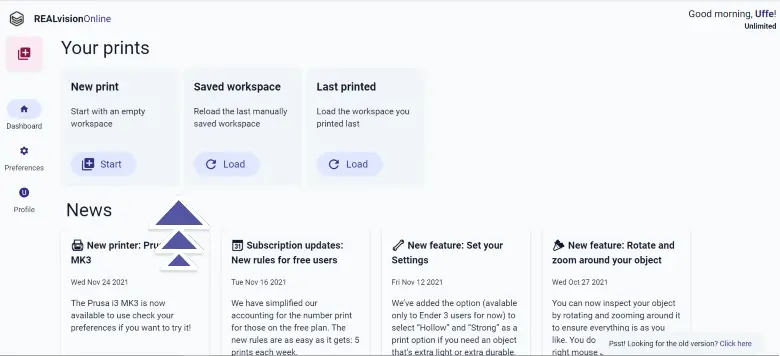 4. Place your model in the workspace
When starting a new print, you will begin at the workspace area. From here, you can see the bed of your print. You click the bed or drag your file to it to upload your file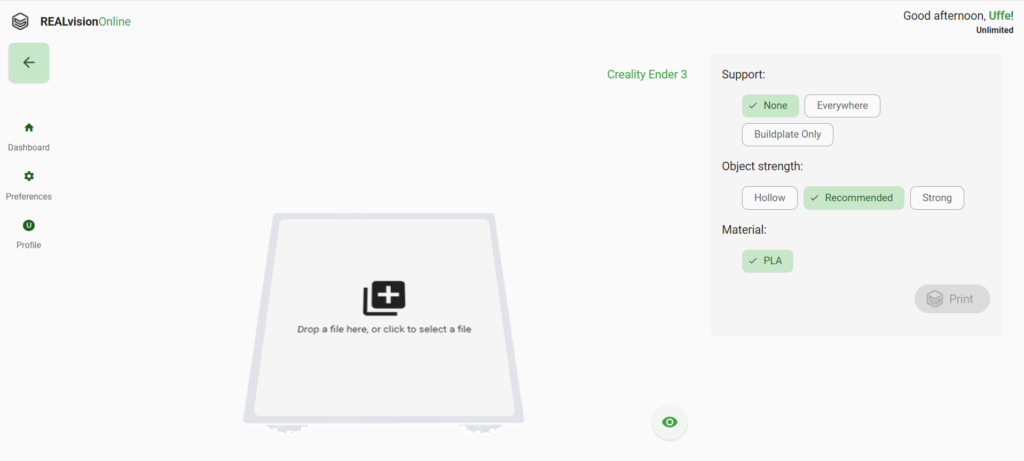 5. Set your printer settings
In most cases, you don't need to set any settings, as the recommended setting will be the best suited. However, if you need support or change in some of the other parameters, you click the settings tab to the right to see the options for your printer.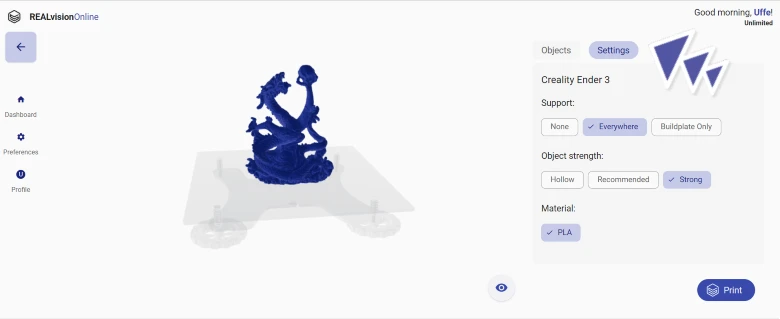 6. Slice your object into g-code
When you are happy, you click the print button in the right corner. You will now see that your file is being sliced. After a few seconds, you can see the print time and the amount of filament you need to finish the print.
Just below, you find the download button. So now it is time to put the g-code file into your 3D printer and let the magic happen.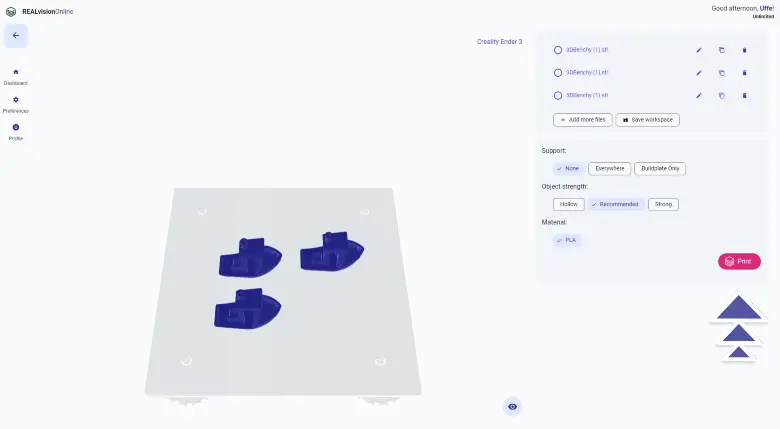 What is a slicer actually?
A slicer is a software you use to transform your STL file into a G-code file. The slicing process defines the instructions your 3D printer needs to follow to give you a good print.
Doing this conversion process, called slicing, your slicer performs complex mathematics to define a g-code that will give you the best possible print result. That is why you will get a different outcome depending on which slicer you use.
What is the difference between a good and a lousy stl to the g-code converter?
The obvious answer would depend on whether you get a good print in the end. There are many good slicers out there. However, you should avoid slicers where you cannot choose your printer and material.
The reason for this is that all 3D printers are built differently. Therefore, your slicer needs to know which printer you have and whether you are printing in PLA, ABS, or other material to communicate correctly with your printer. So if you can't choose your printer and profile, you shall use another stl. to G-code converter.
Just looking at the different features it can be hard to see the difference in the different slicers. However, if you try a few of them you will find that there is a difference in print speed and quality of your print. This is due to the calculations running in the background. At REALvision Online we have focussed a lot on improving the print speed, and we are therefore twice as fast as most other slicers.
What is the difference between STL and G-code?
An STL. file is the standard 3D file format that can be read by 3D drawing software used by architects, 3D artists, and others, where g-code is the same file but with instructions for how your 3D printer shall place each layer of filament to get a good print.
You typically can't save your 3D printed drawing as a g-code because the g-code needs to know your printer, material, and other parameters, and that is placed doing the slicing process.